Spring equinox has just passed, and we once again find ourselves coming into the light. A good time to re emerge and begin with putting plans into action. So where do we begin?
There are three small fields here which we will be using as we start. Our first tentative steps will be made in the field immediately behind our showroom. A little under four acres, this field is home to some very special memories and features. Growing up we always referred to this field as the "strawberry field".
It has been in use for grazing a dairy herd in recent times, but was sown with strawberries for several years which we brought to the village of Foulksmills nearby where they were made into jam. An influx of strawberry pickers during the harvest was a much anticipated high point of the Summer holidays. It was named the Well field before that. So called due to a spring well in its north west corner. We were always warned of its danger, as it was quite overgrown, and it was a worry that a young explorer might fall in through the overgrowth.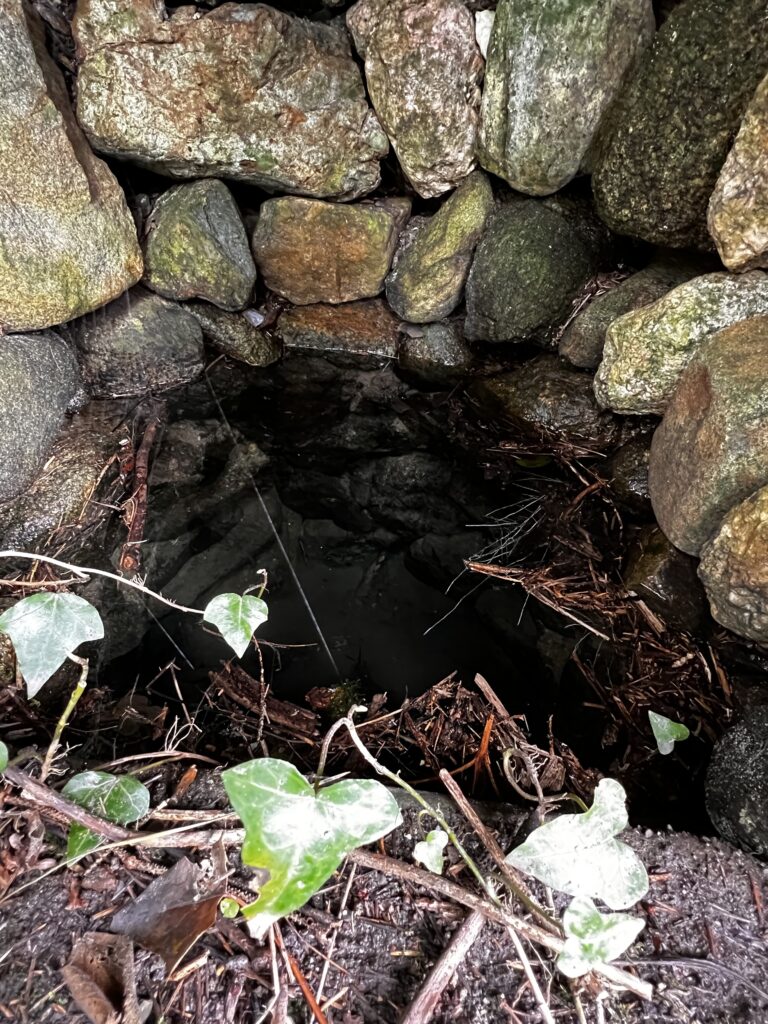 This felt like a powerful evocative and symbolic place from which to set out. Wells and water sources are a magical and deeply imbedded symbol in lore and mythology all over the world, and particularly here on this Island where Connla's well and the well of Segais are otherworldly portals, and immense sources of knowledge wisdom and inspiration. In one of our best known myths it was through eating hazelnuts that fell into the well of Segais that a salmon became the Salmon of knowledge.
We are not sure how old the well in the strawberry field is, but having  cleared back the briars we were quite surprised by how beautiful and well preserved this old covered and stone lined well is. The water that springs from it makes its way down toward the estuary by means of a series of streams and ditches passing through the fields.
We will create an area where a pond can fill along its path so as to bring all the benefits that a body of fresh water brings to biodiversity and wild life. We will not divert the flow but simply allow it to slow and fill the pond before continuing down to the sea.
In preparation for the arrival of alpaca and sheep, we are fencing the field into a series of small paddocks so that we can graze it in rotation and separate animals when necessary. We will also build some shelters where they can step in from driving wind or heavy rain. We have already begun with our plans for processing fleeces in a way that will give us the best quality yarns possible.
We visited Hushabye farm in Offaly and spent a magical weekend there getting to know the alpacas and trekking in the Slieve Bloom mountains. If your looking for somewhere to get away from it all this is definitely a spot worth checking out. We left with a full load of premium grade alpaca fleece which we have sent off together with an equal volume of Galway fleece from into yarn.
We use best quality merino wool in most of our rugs. Its softness and durability brings a luxurious feel and robustness that make it perfectly suited to our craft. Merino sheep do not thrive well in Ireland preferring dryer and sunnier climes as in their native Spain.
We have worked with alpaca yarns also, their fleece which has been called the "fleece of the gods" feels almost as soft as silk. Like silk its softness means that it needs a little strength added in order to keep it standing on end in a cut pile. To this end silk is spun in various proportions together with wool so as to combine their best qualities.
We have also worked with wool from our native Galway sheep, a heritage breed. Its a little difficult to source this spun to our specifications as it is mostly spun with the knitters in mind. Its much coarser to touch than the merino or alpaca. This strength can add greatly to the durability to a cut pile rug where the fibres all need to remain standing under sometimes heavy traffic.
It is our hope that by mixing the alpaca with the Galway wool the result will be an Irish produced yarn with the best qualities of both. Soft and luxurious to touch, but strong and durable under foot….Irish merino! Fingers crossed.